The best things to do in Mombasa, Kenya include:
Visit the Mama Ngina Waterfront

Visit Fort Jesus Museum

Explore the Haller Nature Park

Explore the Old town

Tour the Mombasa Marine National Park

Visit the Mamba Village Park

Visit the Vasco da Gama Pillar

Visit the Mida Creek

Explore the Kenyan coast beaches
Whether you are on solo travel or a Kenyan group tour, Mombasa has many things to do. Think of adrenaline-lifting ocean sports, historical sites such as Fort Jesus, or interaction with exotic local communities, and you'll be thinking about Mombasa.
Mombasa City traces back to the 17th century and has long been a top tourist destination. Traditionally, Omani Arabs and Persians toured Mombasa City due to its favorable climate and natural beaches and this still attracts travelers and wanderers today.
Mombasa is situated in the center of Kenya's coast. To the north are the historic cities of Malindi and Lamu. To the south are the pristine beach towns of Ukunda and Diani. Located on the shores of the Indian Ocean, Mombasa is every traveler's dream.
Mombasa sees visitors from all over the world, thanks to its attractions and a laid-back coastal vibe. One part of Mombasa City is booming with business activity, while the other is a uniquely enchanting tourist destination.
This coastal Kenyan town has natural beaches, beachfront hotels, numerous food varieties, a friendly atmosphere, and plenty of culture and heritage.
What is Mombasa Famous For?
Mombasa is famous for many things, including its culture, history, entertainment, and art. Most tourists who visit Mombasa City enjoy its relaxed vibe and natural attractions.
Mombasa is also famous for Swahili foods, including Pilau and Biryani, and a variety of seafood, including shrimps, prawns, and more.
The Swahili and Mijikenda culture is the most dominant in Mombasa City. Swahili culture is centered around a unique code of dressing, coastal foods while the Mijikenda is more about communal living in fortified villages. The best part of the Swahili and Mijikenda people is that they are highly ethical and welcoming. They follow their strict code of conduct, and socializing with them is one of the best things you can do in Mombasa because of their welcoming nature.
It's mostly sunny and can be very hot, except for rainy April and May months. These perfect conditions make Mombasa popular with many travelers, because it is ideal for beach vacations.
Is Mombasa, Kenya Safe?
Mombasa is a safe city to visit. First, the local people are known to be welcoming, calm, and peace-loving. Second, the government of Kenya has maintained security all over the city through adequate policing. Mombasa, Kenya is as safe as any European destination, with all the usual traveler safety precautions in place.
Top Things to Do in Mombasa
You've probably heard of the bustling city on Kenya's coast that could be an ideal travel destination, but you have no idea where to stay, where to eat, or what the best activities in Mombasa are. We've put together this great guide! Here it is, the best fun, the best sustainable, and the best things to do in Mombasa:
Visit the Mama Ngina Waterfront
Named after Kenya's post-independence first lady, Mama Ngina, the waterfront is one of the best destinations to visit. The Mama Ngina Waterfront is a scenic relaxation spot that overlooks the Likoni Channel, the waterway passage for large ships docking at the Mombasa port.
Here, you are treated to scenic water views and sightings of the ocean horizon. The Mama Ngina waterfront is a great place to relax, especially in the evenings. It allows you to catch the ocean breeze, unwind, and catch a glimpse of the sunsets. Not to forget, it's a top photography destination if you want to capture some great memories.
Tour the Fort Jesus Museum
The Fort Jesus Museum is a 16th Century UNESCO World Heritage Site. Thanks to its archeological preservation, Fort Jesus has stood the test of time. Today, it's among the best places to visit in Mombasa, Kenya.
This historic renaissance military fortification is a reminder of numerous battles fought along the East African Coast. In this fort are numerous cannons used to sink ships during battle. It's said that the Portuguese used to guard the Kenyan coast against the Omani Arabs from Fort Jesus. Later, the British who occupied colonial Kenya used it as a prison for political detainees.
Take Photos at the Towering Mombasa Tusks
Situated on Moi Avenue in Mombasa, these tusks are large concrete/aluminum monumental structures that resemble elephant tusks. Towering over both sides of the road, these tusks are among the most photographed destinations in Mombasa. The essence of these elephant tusks is to serve as a reminder of Kenya's rich wildlife presence.
Visit Haller Park
If you are a fan of nature, Haller Park is for you. Haller Park is a vibrant and diverse ecosystem consisting of a game sanctuary, fish farm, and reptile park.
Haller Park was created to reclaim large portions of land previously used as limestone quarries. The once depleted area is home to many animals and plants, including giraffes, giant tortoises, monkeys, Oryx, antelopes, and more. It also features nature trails ideal for cycling, walking, or jogging.
Tour the Gedi Ruins
Gedi is an ancient Arabic town that existed around the fifteenth and sixteenth century before being abandoned in the 17th century. Nestled in the Arabuko Sokoke forest north of Mombasa, this town is believed to have been a wealthy dwelling or trade center. There are remains of structures such as a palace, mosque, and several houses. Also, there is a great number of materials such as coins, pottery, and beads, which prove the wealth of the town.
It is believed that the abandonment could have been a result of raids between the coastal communities. This ranks as one of the top Kenyan top off-the-beaten-path destinations to visit. It's largely secluded and offers travelers a chance to explore the country's history while interacting with nature in the forest.
Visit Old Town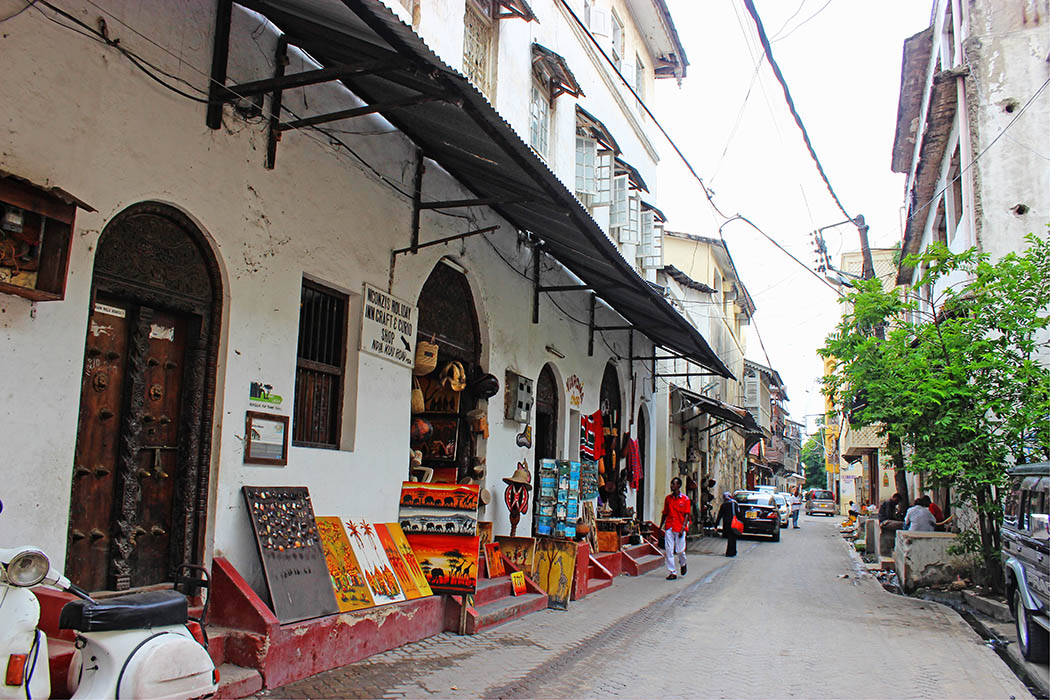 Old Town is a historic village in the heart of Mombasa near the ocean. It was initially inhabited by Arab and Swahili peoples. Currently, it's a residential area with numerous jewelry, gemstone, and souvenir shops. There are several fish markets where you can visit to get fresh fish and seafood.
Visit Wasini Island
Wasini Island is a 5km untouched natural area. It's a great place to view dolphins and snorkel close to the coral reefs. The easiest way to reach Wasini Island is by boarding a boat from Shimoni, a small town not far from Mombasa.
There are various dhows or boats that can take you to Wasini Island from Shimoni. The Island has no tarmac roads or vehicles, just beaten paths where you can walk around barefoot. It is a place of peace and tranquility and ideal for the eco-conscious traveler. Wasini Island offers you the opportunity to look for Humpback whales, dolphins, and sea turtles.
Take a Road Trip to Malindi
Your Mombasa visit cannot be complete without a tour to Malindi, a historic coastal city on Kenya's north coast. Malindi is famous for its seafood, natural beaches, and wide, relaxed vibe. Unlike Mombasa, which has some economic activity, Malindi is mainly a tourist destination.
Visit the Vasco Da Gama Pillar
The Vasco Da Gama Pillar is a monument landmark honoring the famous 15thcentury Portuguese explorer Vasco Da Gama, who visited the Kenyan coast on travel expeditions.
Located in Malindi, the Vasco da Gama was built to mark the arrival of the Portuguese on the East African Coast. It was mainly used to give direction to Portuguese sea travelers going to India. The Vasco da Gama pillar is on a rugged peninsula of land, jutting into the sea, and it offers scenic ocean views and gives you a chance to catch the refreshing ocean breezes. It is also an excellent spot for photography and perfect for morning and evening walks.
Road Trip to Diani
The beaches of Diani are just exquisite. Punctuated by clean sands and clear blue waters, Diani is every tourist's dream. Both local Kenyans and international tourists cherish a visit to Diani. You can include Diani among the top beaches in Africa.
Diani is also a surfing destination. You can learn numerous other water sports such as kite surfing, jet skiing, kayaking, and more.
Mombasa Traveling Essentials
Some of the top essentials to have when visiting Mombasa include:
Shopping Bags
Eco-friendly shopping bags come in handy when visiting Mombasa – don't forget to use our code HIDDENLEMUR10 and receive a 10% discount.
The City has lots of markets where you can shop for items such as groceries, fruits, fish, curio, leso (a long colorful, printed scarf tied on top of a dress or skirt), and more. Since Mombasa City is making strides towards achieving carbon neutrality, sustainable shopping bags are the best choice.
Travel Insurance
Travel insurance is essential regardless of your travel destination. When traveling to Mombasa, having travel insurance is ideal as it can cater to any inconveniences during your trip. These include unexpected occurrences such as loss of baggage, financial loss, sickness, or injuries that may be sustained when exploring.
Reusable Water Bottle
There are lots of outdoor activities in Mombasa, including hiking, boat riding, nature walks, and more. It's best to carry a reusable water bottle that you can carry around to stay hydrated. Besides, it's a great way to avoid using plastic water bottles that contribute to the largest part of the city's landfills.
Backpack
How much do you plan to travel around Mombasa City? Generally, there is a lot of traveling in and out of the city. To ensure you can move around effortlessly, find a suitable backpack that carries all your essential items.
Swimwear
Mombasa is largely a swimming destination. The natural sand beaches provide the perfect swimming conditions. As a result, it's best to carry your swimwear to have a perfect time on the beach. There aren't numerous shops around that sell quality swimming wear, so it's best to carry your own.
Where Can You Stay in Mombasa?
Mombasa is a diverse city with a variety of accommodation facilities, from 5-star international hotels to small eco-lodges. Our favorite places to stay in Mombasa include:
Voyager Beach Resort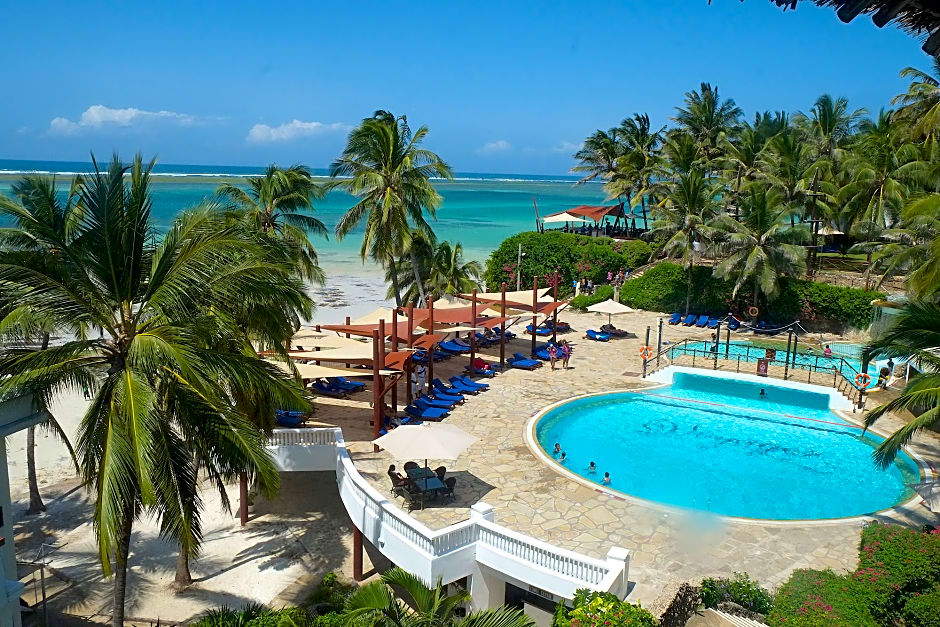 The Voyager Beach Resort is a silver eco-rated hotel located in Nyali, Mombasa. This hotel has a comprehensive environmental policy that outlines its commitment to environmental management. These policies mainly touch on waste reduction, energy conservation, and sharing tourism benefits with local communities.
Marina Hotel EnglishPoint & Spa
The Marina Hotel EnglishPoint & Spa was designed to promote environmental sustainability. Marina's eco-friendly approaches include:
Use of unique air conditioners that minimize carbon emissions
An advanced sewage treatment system that recycles wastewater
Use of sustainable fittings
Distant Relatives Eco-lodge
The Distant Relatives Eco-Lodge is a green hotel located in Kilifi, north of Mombasa. The idea behind this hotel was to promote long-term environmental, cultural, and social prosperity. Some of the hotel's sustainable actions include:
General waste management
Harvesting and utilizing rainwater
Water recycling and reusing
Upcycled wood for furniture
Makuti (coconut tree fronds) construction for energy conservation
Compost waste management
Use of biogas and solar energy
Outsourcing services to local people
Ideally, this hotel operates with high levels of sustainability. Here, you can have a once-in-a-lifetime adventure.
Where Can You Eat in Mombasa, Kenya?
Mombasa is a food haven with lots of Swahili, Arabic, and local Kenyan Dishes. Swahili foods such as Biryani rice are the most popular. In Mombasa, seafood is less common, but is available in plenty in adjacent towns such as Malindi and Diani. Most restaurants have similar menus, so you can be sure of quality yet inexpensive food.
Coconut juice, commonly known as "Nazi" or "Maji ya Nazi," is common in Mombasa. The best part is that it's inexpensive, costing less than a dollar.
The Bottom Line
There you have the ultimate guide to the best things to do in Mombasa, Kenya. Thanks to the wide variety of fun, sustainable activities, and destinations to visit, your Mombasa tour will be one to behold.
Hey reader! Some of the links in this post are affiliate links. This means that if you make a purchase using any of these links, we'll earn a small commission at no extra cost to you. Hidden Lemur is committed to promoting sustainable travel, and we only partner with brands that we believe contribute positively to that cause