Despite its population of less than 600,000, Scotland's incredible city of Edinburgh draws millions of visitors each year. These tourists come to enjoy the food, culture, and famous Scotch whisky, and initiatives in the city ensure that sustainability is at the forefront. 
In this article, we'll explore 10 sustainable things to do in Edinburgh. Not only will your adventure be amazing, but it'll be eco-friendly too! 
How to Get to Edinburgh Sustainably
Sustainable travel is more than just saying no to hotel toiletries. For most of us, it starts with the choice of how to arrive at a destination. 
Edinburgh, Scotland can be reached by plane or train. If you're coming from elsewhere in the UK or Europe via the Eurail, train is by far the most sustainable option as trains emit nearly three times less carbon dioxide than planes. Plus, a train ride from anywhere to Edinburgh is guaranteed to be gorgeous. 
If you're coming from London, the UK's new Lumo high speed electric train is the way to travel. Normally, a train journey from London to Edinburgh can take upwards of 6 hours, however with this new electric train you can reach your destination in around 4 or 5 hours. Plus, with reliable wifi (not a given on all UK trains) and a mostly vegan menu on board, you're bound to have an enjoyable and comfortable journey.
Stay in a Sustainable Hotel
Scotland is home to the Green Tourism awards which grants classifications to hotels, restaurants, and attractions that are leading the way in sustainable initiatives such as energy and water efficiency and waste management.
By staying in an eco-friendly hotel that has been awarded a gold or silver medal, you're taking a great step towards a sustainable visit to Edinburgh. Hidden Lemur has done the legwork for you! The following are hotels in Edinburgh that have been accredited with gold awards and also happen to be in great locations!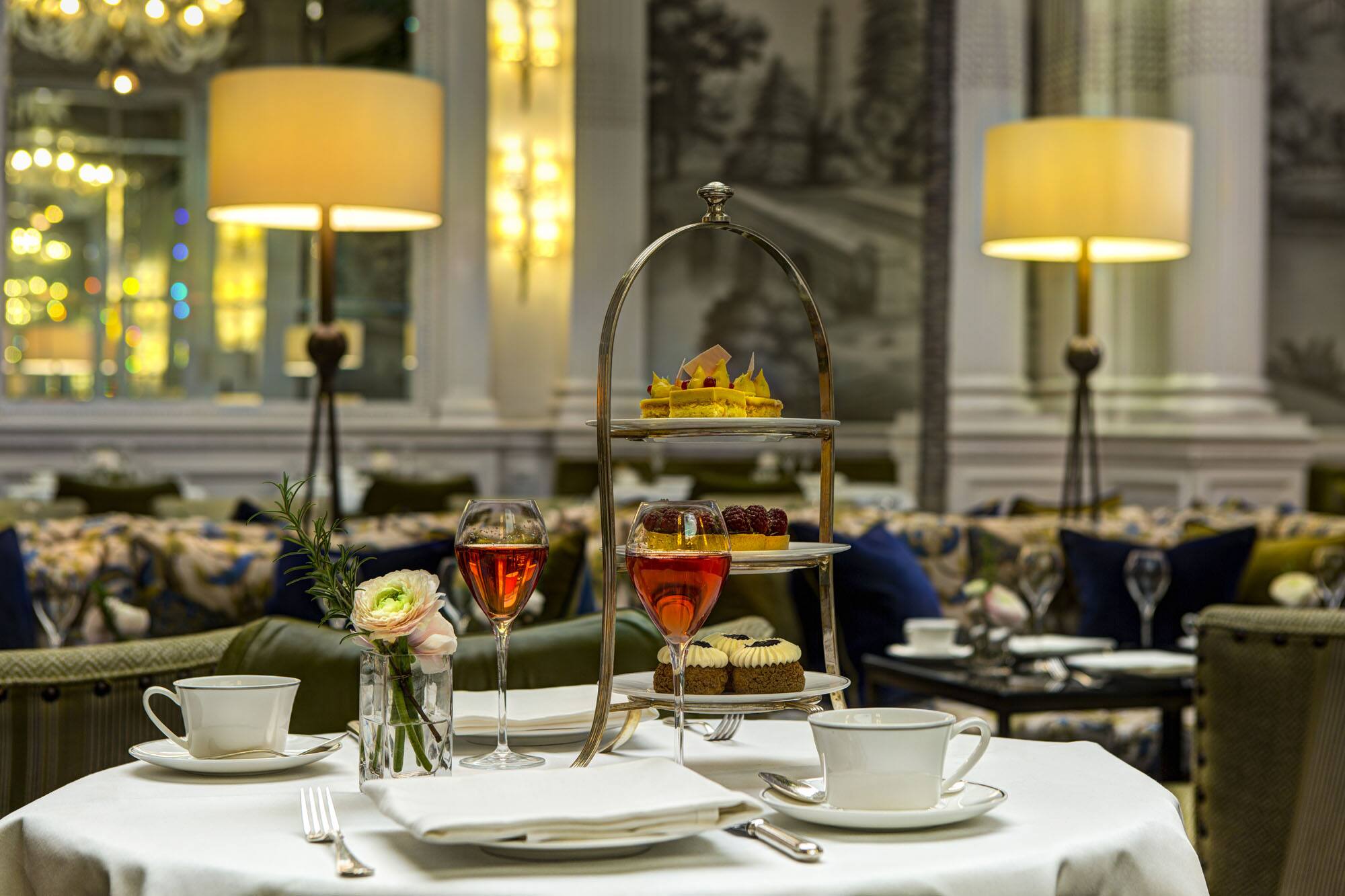 The Balmoral is located on Princes Street, one of the most lively areas of the city. Just a short 10 to 15 minute walk away is the Royal Mile, one of Edinburgh's most historic and famous places, more on that later. In the area, there are plenty of pubs, grocery stores, and shops nearby, not to mention the gorgeous green space that is Princes Street Gardens. With so many incredible sites and shops just steps away,  the Balmoral is a great place to stay.
Located directly on the Royal Mile, the Radisson Blu puts you straight into the hustle and bustle of the city with sustainability at the forefront through water conservation efforts, food waste management, responsible sourcing, and ecolabeling. If you're headed to Edinburgh on business, you'll be pleased to know that the Radisson Hotel Group offsets the carbon footprint of every official meeting held in their spaces. 
About a 20 to 25-minute beautiful walk from the Royal Mile, the Edinburgh Central Youth Hostel is ideal for those on a budget. The hostel is located not far from Calton Hill and is still incredibly central with easy walking access to Edinburgh Waverly train station. 
If you want more of a homey feel during your trip to Edinburgh, check out VRBO. You can find plenty of Edinburgh flats to stay in which are often more affordable and have the added benefit of a kitchen so you can cook your own meals.
Eat at a Vegan Restaurant
One of the best things to do in Edinburgh is to eat! 
There are a lot of great restaurants in Edinburgh, and if you're a vegan you too can enjoy many of the traditional Scottish dishes like haggis or Scotch pies. Edinburgh has a surprisingly strong supply of locally sourced ingredients, and did you know that a plant-based diet results in far fewer emissions than an omnivorous one? 
The following is a list of just a few of Edinburgh's incredible vegan restaurants that will have you coming back for seconds. 
This completely vegan bakery really has it all. From incredible haggis breakfast sandwiches made to order to their own unique sweet and savory cruffin creations (think croissant and muffin) and just about everything in between, this spot is not to be missed. Head to The Meadows, a green space nearby, to enjoy your feast in the sun. 
Located next to Edinburgh's bus station and not far from Princes Street is Holy Cow. This lovely little restaurant is completely vegan and uses loads of local and seasonal products to create delicious dishes that will leave you feeling satisfied and ready for round two. The carrot lox is our personal favorite! 
After a long day of walking and exploring Edinburgh, the last thing you may want to do is eat something healthy. If you're in the mood for American-diner-inspired food (burgers, nachos, and loaded fries) and a few cocktails, head to Paradise Palms, located a 5 to 10-minute walk south of the Royal Mile. This vegan and vegetarian restaurant fills up quickly so be sure to make a reservation. You'll also be happy to know that they use 100% renewable energy and bio-fuel gas and the entire restaurant is plastic-free. If you feel like dancing the night away after, you can head next door to the club Boteco. 
Walk the Royal Mile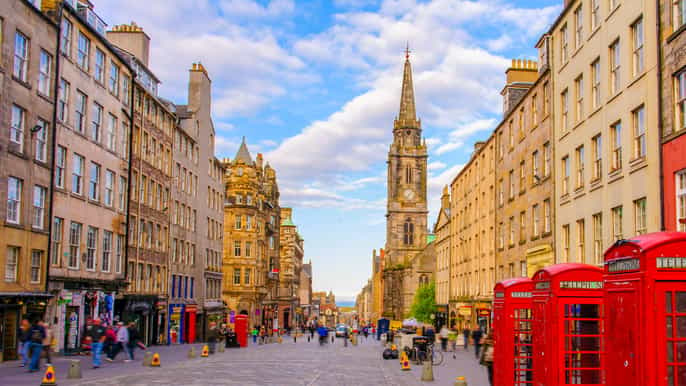 You can't go to Edinburgh without exploring the Royal Mile, which is, as you guessed, a mile-long road leading down from Edinburgh Castle to the Palace of Holyroodhouse (generally known as just Holyrood). 
Although you can easily walk the route by yourself, it's much more exciting to take a tour or follow an audio guide to learn about the history and discover some of the hidden gems that you would otherwise pass by. For example, did you know that the road was the processional route for monarchs hundreds of years ago? When Mary Queen of Scots returned to Scotland from France, she herself took this very route, in fact she lived in Holyrood between 1561-1567.
If you head up the Royal Mile towards the castle, you'll undoubtedly find a variety of Royal Mile tour options from ghost tours, tours by bus, and free walking tours (they're free to attend but make sure to tip your guide well after!). The Rick Steves audio tour is another fantastic option that is free on the Rick Steves Audio Europe app. 
It's best to do one of these tours at the start of your trip to the city because your guides will often have great recommendations for other things to do in Edinburgh and you'll be able to really appreciate the history and growth of the city.
Attend an Edinburgh Festival
Edinburgh may be known to many as a university town, but what draws most visitors are the numerous festivals hosted in the city. From the Science Festival and the comedy Fringe Festival to the International Children's Festival, Book Festival, and Scottish International Storytelling Festival, there really is no shortage of things to do in Edinburgh during the festival season. 
When it comes to sustainability during festivals, be sure to bring a reusable water bottle and stay hydrated while exploring and standing in lines (what's a festival without long lines). If you're drinking, keep in mind that during festival season, many pubs, bars, and other vendors won't use reusable glasses and will instead give you your drink in a plastic cup that is thrown away after. In order to be as sustainable as possible, order something that will come in a glass bottle or metal can and carry it with you until you find a recycling bin.
Edinburgh is a small city and most events are held in the city center or nearby. You should be able to access the majority of events by walking or taking public transport.
Visit a Green Space
One of the best things to do in Edinburgh is to explore the many green spaces. Edinburgh prides itself on its upkeep of these gorgeous areas and it's easy to spend a full day or two exploring them.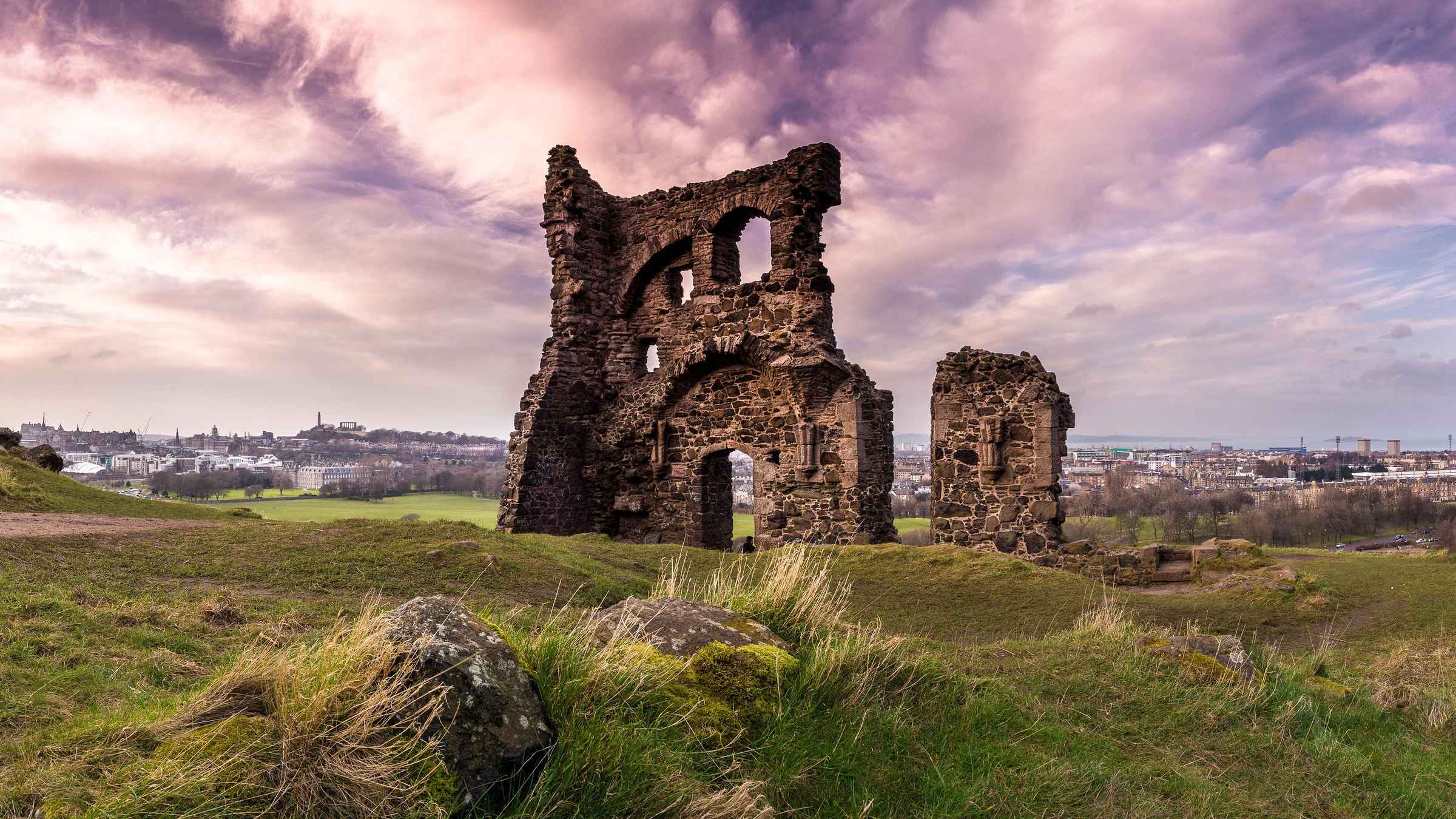 Located the most centrally are the Princes Street Gardens, Holyrood Park, and The Meadows. Princes Street Gardens is located directly across from Waverly Station and just a short walk downhill from the Royal Mile. At the end of the Royal Mile is Holyrood Park, a gorgeous green space that is home to the famous Arthur's Seat, an extinct volcano that erupted over 340 million years ago. The area is also home to Holyrood Palace, the Queen's official Edinburgh residence that also offers tours. Finally, the Meadows is located south of the Royal Mile and is a hotspot for university students. In the spring, the cherry blossoms are in full bloom and you won't find a better place for a picnic.
If you're willing to head a little further out of town you can visit the Royal Botanic Gardens. These gardens are free to visit but you do need to book a ticket in advance and they're well worth the trip. 
Fun Fact: Open container (drinking alcohol outside) is legal in Scotland, so grab a pint of local beer, I recommend Innis and Gunn Original, or a whisky and mixer, and enjoy the day.  The rules vary by council, but in general, as long as you're not rowdy or stumbling, you're free to walk around with a drink in hand. Bear in mind that you can't always BYOB to restaurants! 
Explore a Museum With a Green Tourism Gold Award
Just like hotels, museums in Edinburgh can also be accredited with a Green Tourist award. Most museums in Edinburgh are free, so the environment and your wallet will thank you for the experience. 
The following are all free museums in Edinburgh that have received a gold award for Green Tourism. Although they are free, you will likely need to book in advance.
National Museum of Scotland
The National Museum of Scotland is easily one of the most popular Edinburgh museums, and with several floors of exhibits featuring everything from ancient history to taxidermy and everything in between, it's easy to spend a full day exploring. 
Scottish National Portrait Gallery
The Scottish National Portrait Gallery is often overlooked in favor of larger museums, but the main room in this gallery is sure to be one of the most impressive things you'll see in Edinburgh. The museum features several floors of incredible portraiture of both famous people like Mary Queen of Scots, and work from across centuries including modern work, and is well worth a visit.
Enjoy an Eco-Friendly Scotch Whisky Experience
Scotland's pride and joy is its whisky. Make sure that you never spell it with an e "whiskey" because that's a drink made in the USA and Ireland, and the Scots want nothing to do with it!
The Scotch Whisky Experience, located on the Royal Mile right next to Edinburgh Castle, holds a Gold award by the Green Tourism accreditation board. The business also focuses on using recycled and repurposed items in their gift shop such as recycling old kilts to make new items like notebooks. They'll also refill reusable water bottles for anyone who pops in although only with water and not whisky!
Stop by a Market 
No guide of things to do in Edinburgh is complete without mentioning the numerous markets. Stopping by a local market is a great way to browse the massive variety of culinary and boutique offerings that the city has to offer. 
A few of the most popular markets include:
Stockbridge Market
Grassmarket Market
Edinburgh Farmers Market
Leith Market
Pitt Market
Be sure to do your research ahead of time to check on times and locations as they may change seasonally. There are also other seasonal markets and niche markets like vegan pop-up markets around the city. You can find more details here. 
Always bring your own reusable containers, bags, cutlery, and mugs for the most sustainable market outing!
Shop Local and Second Hand
Edinburgh is home to many small and independent businesses that deserve your attention. While you could buy a souvenir from one of the many tourist shops on the Royal Mile, you will find a more authentic gift from a local craftsperson, and be contributing directly to the community. The Edinburgh neighborhood of Stockbridge is a great area for small, locally-owned boutiques. 
The same goes for coffee shops and cafes. Bring your own reusable mug, and head to one of the many local cafes for a quick pick me up or a relaxing afternoon eating cake and people watching. North Bridge Road off the Royal Mile at the end closer to The Meadows than the Royal Mile, has loads of independent coffee shops.
While you could head to one of the major stores that fuel the fast-fashion industry, turn your attention elsewhere and head to one of Edinburgh's many charity and vintage shops. Because Edinburgh is a university city, students are constantly rotating in and out and donating items as they go. You can find some true treasures in charity shops near university housing.
Step Outside the City Center
Last but certainly not least, one of the best things to do in Edinburgh is to venture outside of the city center. 
Walk down to Dean Village and be sure to bring your camera because the photo opportunities of the quaint and colorful houses are endless! From there, take the Water of Leith walkway for a leisurely stroll. The Water of Leith is the main river running through Edinburgh and you could easily follow it for hours, exploring Edinburgh as you go.
If you're near Arthur's Seat, in Holyrood Park, follow Duddingston Low Road around towards Duddingston to find the quaint and peaceful village. This road isn't always open to cars, so check before you drive. Be sure to stop by the Sheep Heid Inn for a pint. You may even be able to sit in the same seat that Queen Elizabeth II did when she stopped in for a visit. 
On a warm day or one with a promising sunset, Portobello Beach is the place to be. Take the bus or drive (there is plenty of free parking available) and let your feet enjoy the sand. There are arcades, pizza by the slice (vegan options too), and loads of restaurant options along the boardwalk. 
Edinburgh's winding streets are full of hidden gems that are best found by taking a wander and letting yourself get lost. So get out there and explore!
Start Making Your List of Things to Do in Edinburgh
Now that you have an idea of some of the best and most sustainable things to do in Edinburgh, it's time to start planning your trip. 
Be sure to subscribe to our newsletter to stay up to date on the latest sustainable Edinburgh finds and eco-travel trends!
Hey reader! Some of the links in this post are affiliate links. This means that if you make a purchase using any of these links, we'll earn a small commission at no extra cost to you. Hidden Lemur is committed to promoting sustainable travel, and we only partner with brands that we believe contribute positively to that cause.