Looking for the best things to do in Santa Fe? This article covers the top activities and destinations to explore in the once United States capital.
The oldest capital in the United States, Santa Fe, was founded in 1609 when it was then a Spanish colony. A number of Indigenous groups in the area, like the Apaches, were fiercely resistant to this early Spanish colonization. Today, Santa Fe boasts some of the most remarkable cultural attractions in the Southwest region, delicious food, and a vibrant art scene.
Nicknamed The City Different, Santa Fe lives up to its moniker in every sense of the word, as it always has something exciting going on.
The city puts on dozens of festivals, events, and fairs throughout the year, so make sure to check Santa Fe's roster before visiting. Summer sees some of the most iconic events in New Mexico's capital, such as Fiesta De Santa Fe, when the city celebrates its history and the many cultures that have shaped this city over the centuries. The Annual Traditional Spanish Market is another festival where hundreds of artists from New Mexico and Colorado descend on Santa Fe to showcase their pottery, paintings, and jewelry, and to demonstrate their traditional practices.
Whether you are coming to Santa Fe to admire its art scene, learn its unique history or sample some famous green chili, this city guide will help you get your bearings on New Mexico's capital.
1. Canyon Road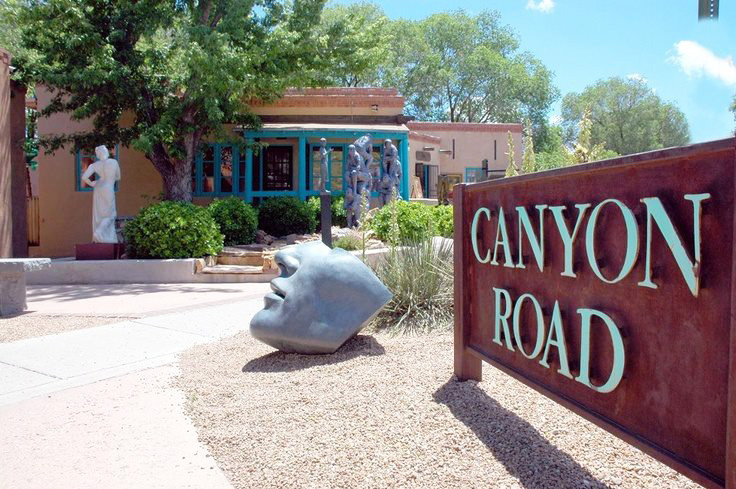 There's no better way to experience Santa Fe's art scene than on the famous Canyon Road. This half a mile street is home to more than 100 art galleries, museums, and shops. Artworks for sale are from a variety of artists, many of whom have come to call Santa Fe their home. If you are visiting Santa Fe for the first time, grab some coffee and simply stroll down this tree-lined street with Pueblo-style homes, to experience the special atmosphere of this place, before choosing to explore a specific museum or gallery.
If you are interested in art festivals, make sure to visit Canyon Road Art District in October for the annual Paint and Sculpt Out or the incredible Christmas Eve Farolito Walk, a short hike through lighted trees, with vendors selling traditional food that offers an incredible Christmas atmosphere and cheerful spirit.
2. San Miguel Chapel
The oldest church of Santa Fe, San Miguel Chapel (also known as San Miguel Mission) might not seem like a remarkable landmark due to its small size, but it is worth your attention! It bears the title of the oldest church in the continental United States. Although the exact date of construction is unclear, historical records indicate that San Miguel Chapel was built by Franciscan Missionaries from Spain between 1605 and 1608.
This adobe chapel (adobe is a type of material with stucco and clay that was used to construct buildings in the southwest) has been through many changes since it was constructed along the south bank of the Santa Fe River. For example, in 1680 it was set on fire during the Pueblo uprising and lost its roof and some of the framework before it was restored. Today, San Miguel Chapel is conveniently located in the national historic district of Santa Fe in the middle of Barrio De Analco (which translates as The Old Site in Aztec).
3. Santa Fe Plaza
A national historic landmark, Santa Fe Plaza is the heart of the city that resembles many traditional Spanish Colonial cities. If you have traveled to Antigua in Guatemala or San Cristóbal De Las Casas in Mexico, as well as other destinations in Mexico and Central America, you might find an uncanny semblance in Santa Fe Plaza, with its ornate historic buildings and a large plaza in the middle where many people come to relax and enjoy the special atmosphere of this place.
Since the city was established in 1610, Santa Fe Plaza (or square) has played an important role in Santa Fe daily life as centuries of festivities, important events, and commercial fairs have taken place here. You can find many museums, restaurants, and stores selling local arts and crafts around Santa Fe Plaza.
4. Georgia O'Keeffe Museum
No trip to Santa Fe is complete without stopping at Georgia O'Keeffe Museum. Located in downtown Santa Fe, it is home to over 3,000 artworks of the city's most celebrated artists including sculptures, paintings, and etchings.
O'Keeffe was born in Wisconsin, and spent years traveling the country as she worked on her career. She became most well known for her portrayals of American Southwest landscapes. O'Keeffe fell in love with New Mexico after visiting the state in 1929 when she visited Mabel Dodge Luhan, a famous artist patron, on her ranch near Taos. That visit started O'Keeffe's fascination with the region, and after visiting on numerous occasions, she eventually purchased properties in New Mexico and eventually moved there permanently.
Throughout her career, O'Keeffe has received many accolades for her contributions to American modernism. O'Keeffe has produced thousands of artworks, and today is recognized as one of the most prolific American artists.
Georgia O'Keeffe Museum is one of the busiest museums in Santa Fe and requires reservations with a minimum of 3-week notice. The museum also offers virtual tours for all ages.
5. Meow Wolf
There is no such thing as too many museums, and Santa Fe, a city famous for its thriving art scene, is excellent proof of that. Many museums of different types and genres coexist here, and if you want to get another glimpse into modern art, head to Meow Wolf – the most quirky and unusual of all museums in New Mexico's capital.
Here you will find a space with cool graphics, trippy art installations, and even 3D rooms. The museum is best described as a melting pot of different artworks from different mediums that have come together to create what has become one of the most iconic Santa Fe museums.
This museum received financial backing from George Martin, the author of the Games of Thrones. The new museum debuted in 2016 and has quickly garnered national fame which led to it becoming one of the busiest art venues in Santa Fe. Although originally Meow Wolf wasn't considered as anything serious, things have changed quickly. The second location has recently opened in Denver, Colorado. There is a documentary Meow Wolf: Origin Story, that chronicles the group of New Mexico artists who helped to bring this museum to life.
Given this popularity, it's a good idea to purchase your tickets online ahead of your visit. Another thing to keep in mind is that Meow Wolf can be extremely busy during weekends, so it's better to plan your visit for weekdays (preferably early morning).
6. El Rancho De Las Golondrinas
El Rancho De Las Golondrinas, the ranch of the swallows, in Spanish, is a historic ranch-turned museum. Located about a 20-minute drive outside Santa Fe, this rural setting puts El Rancho under a wide-open sky.
A former stop for travelers along the El Camino Real between Mexico City and Santa Fe, the museum boasts an impressive collection of artifacts, historical buildings, and reenactments that give a glimpse into the culture and history of 18th-century New Mexico.
El Rancho De Las Golondrinas makes for one of the best escapes from Santa Fe. Here you can learn important facts from New Mexico's history and also admire beautiful landscapes surrounding this property. When visiting the museum, you can choose either a guided or self-guided tour.
Throughout the year, numerous events and festivals take place on this 200-acre property, so it's a good idea to check the museum's website for more information. And, if you happen to visit one of these events, you will see a vibrant and creative depiction of New Mexico's colorful past.
Local weavers come together here, every Friday, and you can witness the process of embroidery, dying, and spinning on wheels, as well as many other old techniques that continue to be part of New Mexico's heritage to this day.
7. Railyard Arts District
One of Santa Fe's most popular areas is the Railyard Arts District. Here a variety of 19th-century depot buildings are home to many contemporary museums and art galleries. The Railyard Arts District is also home to the Santa Fe Farmers Market and some of the most popular restaurants in the city.
Located within walking distance of each other, contemporary art galleries in this unique area include Charlotte Jackson Fine Art, Blue Rain Gallery, Zane Bennett Contemporary Art, and Lew Allen Galleries. You can easily spend a few hours museum-hopping around Santa Fe's old Railyard District.
If you have a couple of days in Santa Fe, take advantage of the First Friday Art Walk, which takes place on the first Friday of every month and allows visitors to see artworks of many artists. The Railyard Art District is located between 13th Street and Alameda Avenue and Inca and Kalamath Streets in Santa Fe.
8. Santa Fe Farmers Market
Santa Fe is renowned for its food, and amazing fresh produce. There's no better way to try it than Santa Fe Farmers Market – one of the oldest and largest Farmers' Market in the country. Here you can find producers from many parts of Northern New Mexico who sell everything from fruits and veggies to freshly baked bread and apothecaries.
Open year-round, Santa Fe's market takes place every Saturday and Tuesday from 8 am to 1 pm at Market Pavilion, 1607 Paseo de Peralta. The market on Tuesday tends to be less busy, making it easier to shop and talk to vendors.
9. Day trip to Taos
Known as a home to Taos Ski Valley, one of the most famous skiing destinations in New Mexico, Taos is a small but mighty town with a big art scene that makes it one of the best day trips from Santa Fe.
On the north end of town, you will find that charming Taos Pueblo is a UNESCO World Heritage Site, home to a big Native American community that has been here for more than 1,000 years. Located at the base of the Sangre De Cristo mountains, this village is one of the oldest continually inhabited communities in North America that is home to Native American people of Puebloan descent.
Many visitors who make their way to Taos from Santa Fe head to Taos Pueblo first, since this is one of the biggest attractions of the area.
Whether you want to see the area's impressive collection of art and jewelry at the Milicent Rogers Museum, sample local food at one of the family-run restaurants, or admire local architecture, make sure not to miss Taos during your visit to Santa Fe.
But arts and culture is not the only thing that makes Taos worth a visit. This small town is a perfect destination for nature lovers with many scenic trails in the area as well as Black Rock Hot Springs where you can soak in for free after a day full of activities. Want to get the adrenaline rush? Head over to the Rio Grande River where you can do some epic rafting with several adventure companies in the area.
For great sunset views head to Rio Grande Gorge. You can get there by driving or walking on the vertigo-inducing Rio Grande Gorge Bridge. From this vista, you can see spectacular colors light up this huge valley. Southwest sunsets are unlike anywhere in the country, and if you are visiting Santa Fe for the first time, make sure to use this opportunity.
10. Explore Santa Fe Food Scene
Famous for its red and green chile, Santa Fe is the Southwest capital of food. Here you can spend an endless amount of time trying specialties from Northern Mexico cuisine. Indeed, the local food scene is a major draw for many Santa Fe visitors, since many local culinary staples such as green chile stew, Frito pie, and bizcochito can't be found outside of the region.
For a quintessential tour of New Mexico's best food, head to downtown Santa Fe where you can sample many classic New Mexico dishes. While many establishments in the area are geared toward visitors, your best bet is to check out some of the establishments that are frequented by locals. For example, El Parasol, one of the most popular restaurants in New Mexico, offers classic Northern Mexican and Mexican food. It has affordable prices and multiple locations around Santa Fe. Another popular spot among locals is La Choza, a restaurant popular for its many flavors and gluten-free options.
And finally, The Pantry is a local down-to-earth diner that has been operating for more than 60 years. Make sure to spend some time touring New Mexico restaurants on your trip, to learn the local culture and flavors.
There you have the best things to do in Santa Fe, New Mexico. Which of the above would you love to try? Let's know in the comment section below!